---
---
Following my cruise I had one day of down time so I ended up renting a hotel room in Key West. I won't tell you what I paid, but suffice it to say, I spent more on it than on the entire rest of the week. Of course, I flew to Miami on a voucher and most of my cruise expenses were paid for, so I didn't mind too much.
The Winter Star Party is a gathering of astronomers on Scout Key between Big Pine Key and Marathon. The skies aren't completely pristine as there is light pollution from those towns as well as Key West and Miami visible, but the advantage is that to the south there is absolutely nothing until you get to Cuba. Also, you are near the southern tip of the continental US, so you can see some constellations that either aren't visible at all or only get a few degrees above the horizon from higher latitudes.
The entire week is camping, which I hadn't done in a long time, so I had to buy a lot of gear to prepare. Since I flew into Miami, I only brought my small telescope and the Astrotrac mount with me as well as a Canon 60DA and Canon T2i. A member of my local astronomy club was driving down and I had him bring my bigger CGEM mount and some other gear that I couldn't take on the plane.
The gates opened at 12 PM on Sunday, February 23. However, people start lining up much earlier. I was told that four cars were already in line at 10 PM the night before. I arrived at 4 AM and there were 24 cars ahead of me! Once they open the gates, there's a mad dash for people to get camping spots. I camped with some other people from Maryland in an area with lots of trees where we'd get a little bit of shade during the day. It was quite hot all week. We set our scopes up just south of our tents and were there for five nights. The first two nights were mediocre, the third was pretty good, the fourth was only good for a few hours, the fifth was raining and the sixth was absolutely amazing. We had to leave Saturday morning, but Saturday night looked even better!
I'll post some more about the camp later, but first, the astropics! Click any pic for hi-res.
The first astropic I took was actually from the side of the road while I waited for the gates to open. Omega Centauri was just clearing the trees, although you can see some in the stacked image. This was with the Astrotrac and 60DA, 200mm, f/4, ISO 800, 20 x 1 min. From here this hits 17 degrees above the horizon. I've seen this before from Missouri, but it was almost impossible. Keep in mind this was taken on the side of a major highway!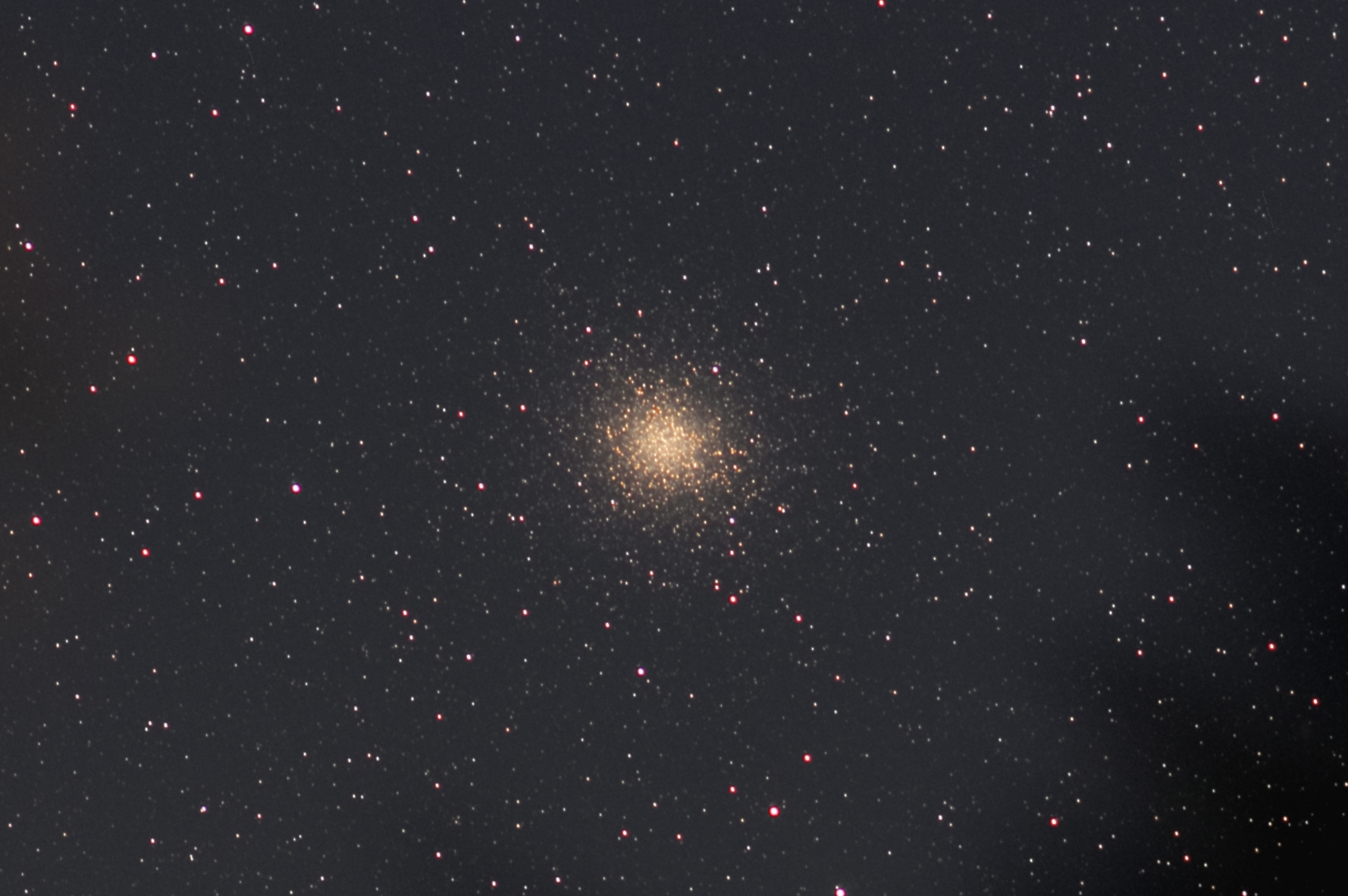 The first night, I was having some major trouble getting my CGEM mount aligned (a spring was missing from my finderscope bracket, so I tried finding the guide stars by eye…big problem) so I didn't have a chance to take a ton of pics before the clouds rolled in. The one I did try was the Supernova Remnant in Vela. I'm not sure I actually can see it here, but the view is quite nice. This was with the Astrotrac and 60DA, 200mm, f/4, ISO 1600, 9 x 3 min.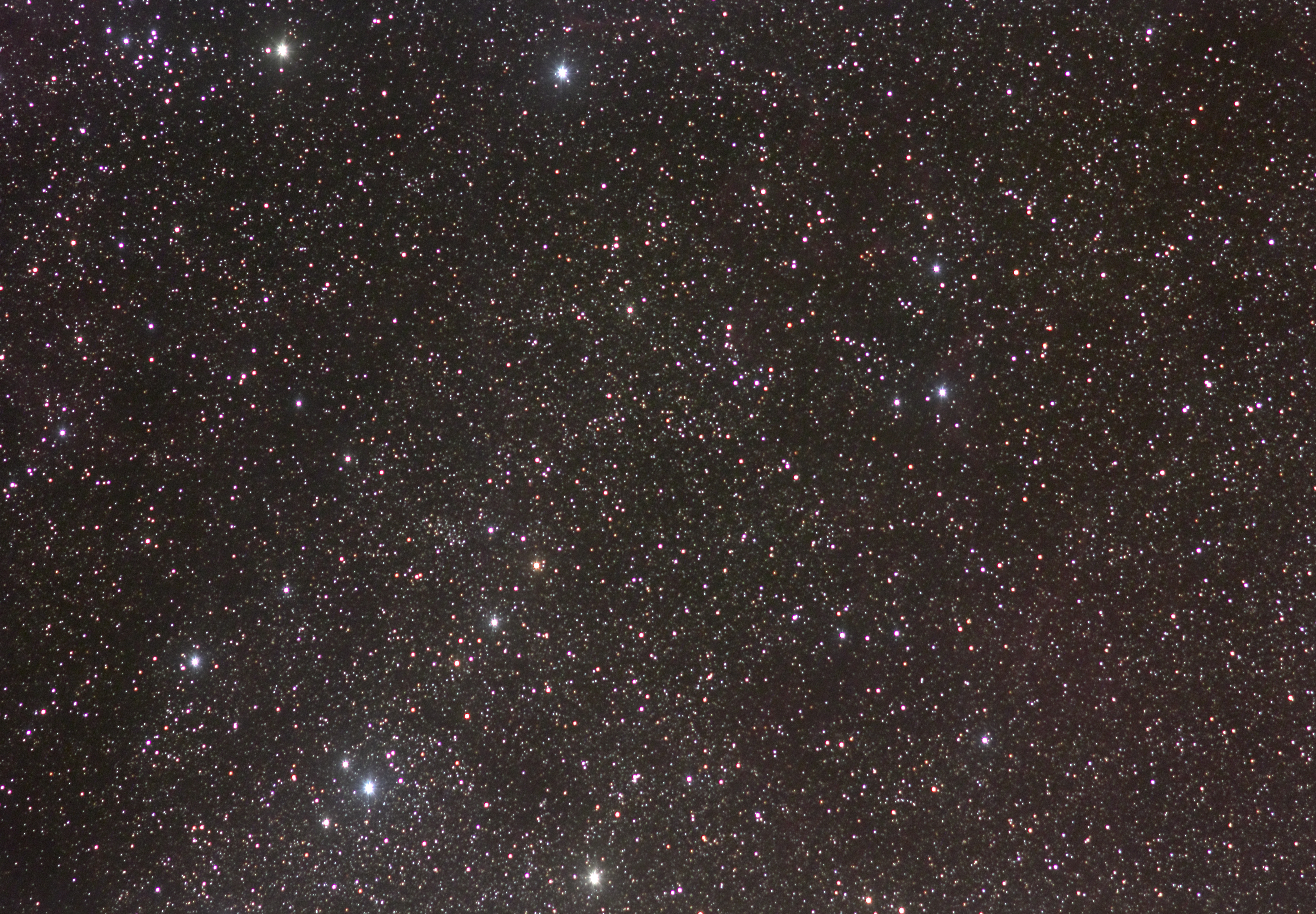 The second night ended up being a lot more productive. I got a red dot sight for my Astrotech EQD 65mm refractor on the CGEM and was able to get it polar aligned quite well. That being said, I didn't take too many pics through it that night and they aren't worth posting. I got three really nice pics this night.
The first was of the Seagull Nebula in Monoceros. This one takes an awful lot of exposure time to pick up so it's kind of dim, but you can see it. This was with the Astrotrac and 60DA, 200mm, f/4, ISO 1600, 19 x 2 min.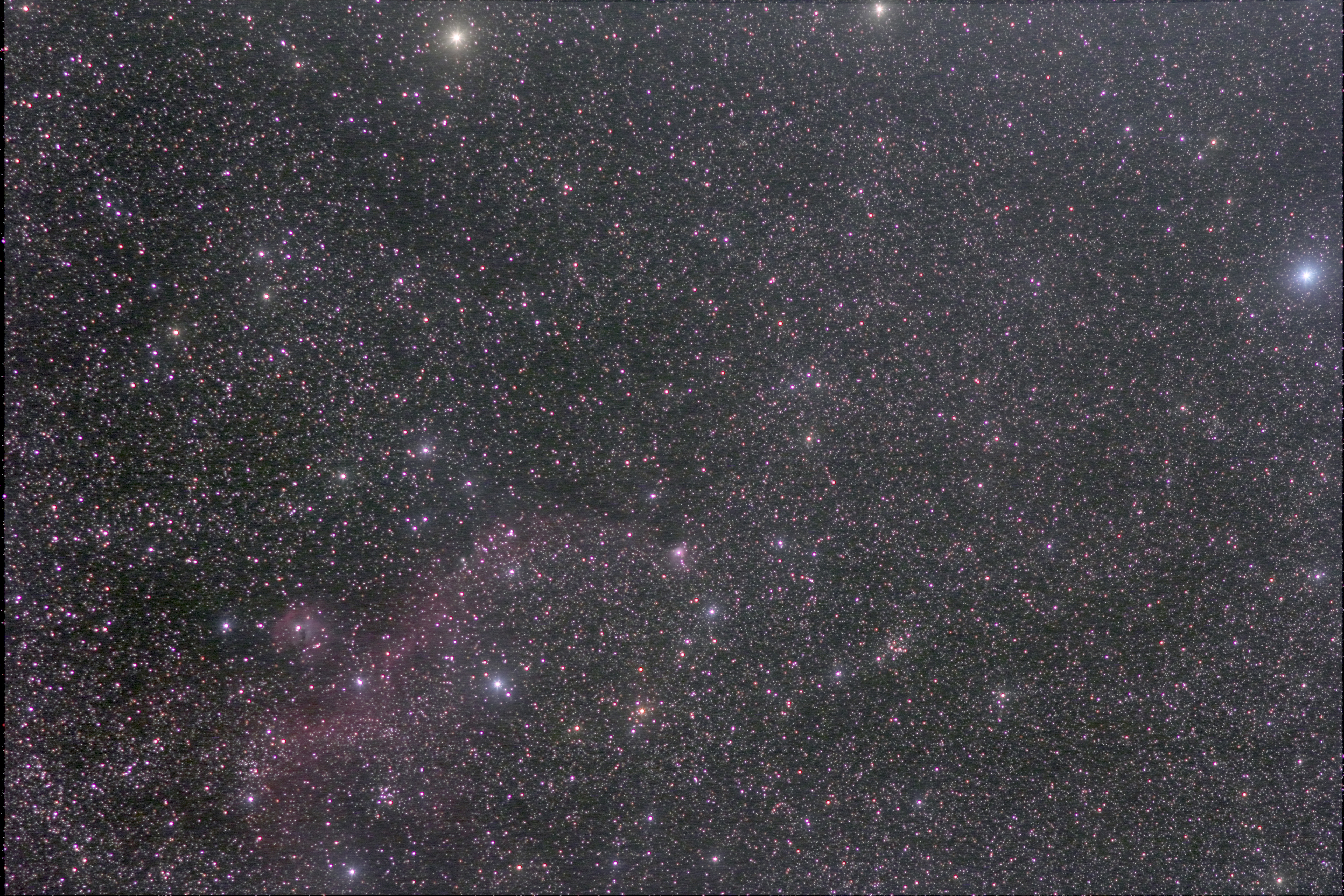 This is out of order of when I took them, but the next night I got this through the Astrotech refractor on the CGEM. More magnification, but again, it's pretty hard to see it. This was with the 60DA, ISO 1600, 40 x 90 sec.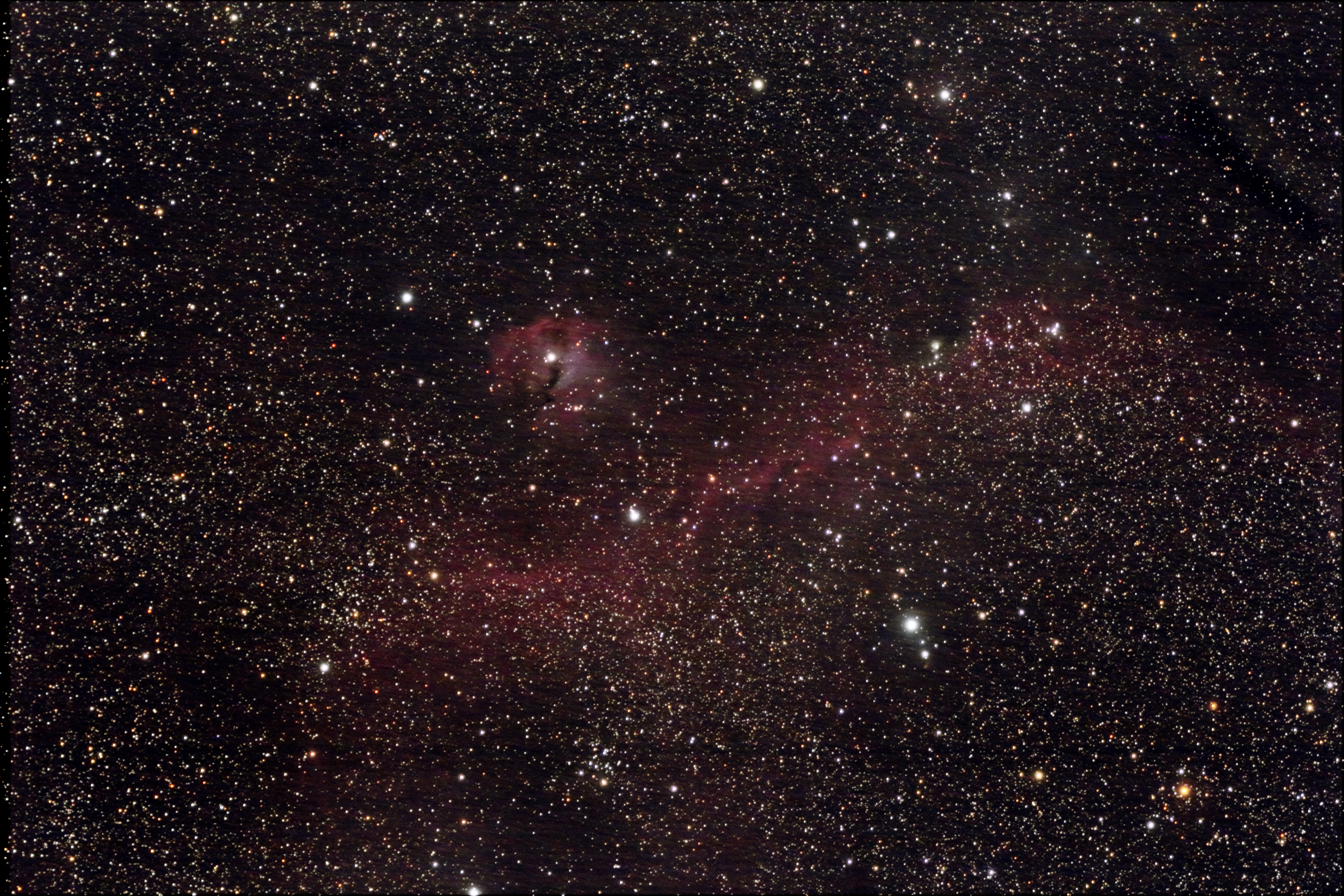 I did a wide field of most of Vela. The constellation is actually quite large so I couldn't get the whole thing in the frame, but you can see a lot here. This was with the Astrotrac and 60DA, 50mm, f/4, ISO 1600, 10 x 5 min.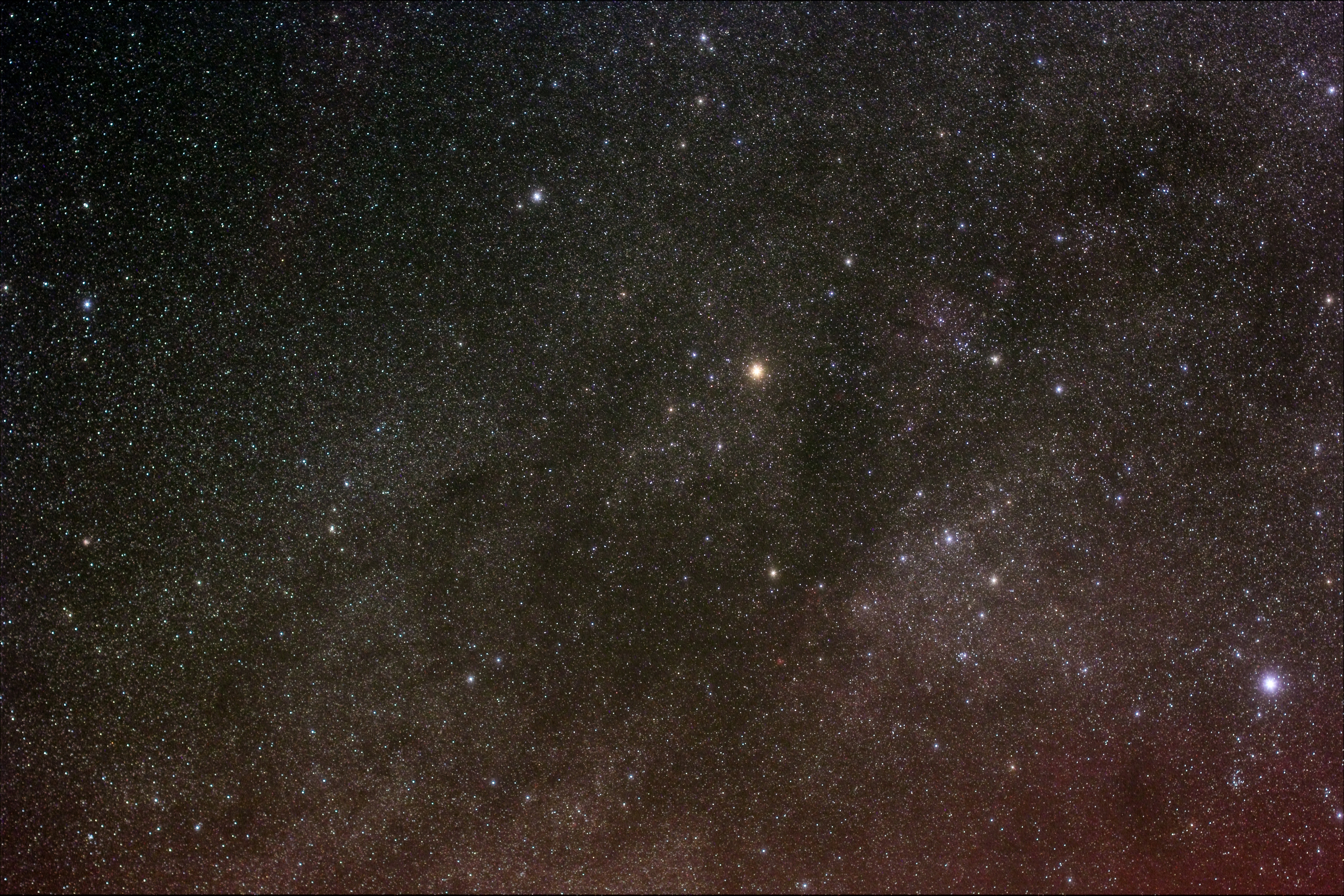 The whole time I was taking these, I'd set up the images then take a nap. My tent opened up to the south and my night vision was pristine upon waking up each time. One southern target I wanted to get was Rho Ophiuchi near Antares. This is the nebulosity just up and left of the bright star. Some of the dark areas of the Milky Way are visible in the lower left. This was with the Astrotrac and 60DA, 50mm, f/4, ISO 800, 7 x 5 min.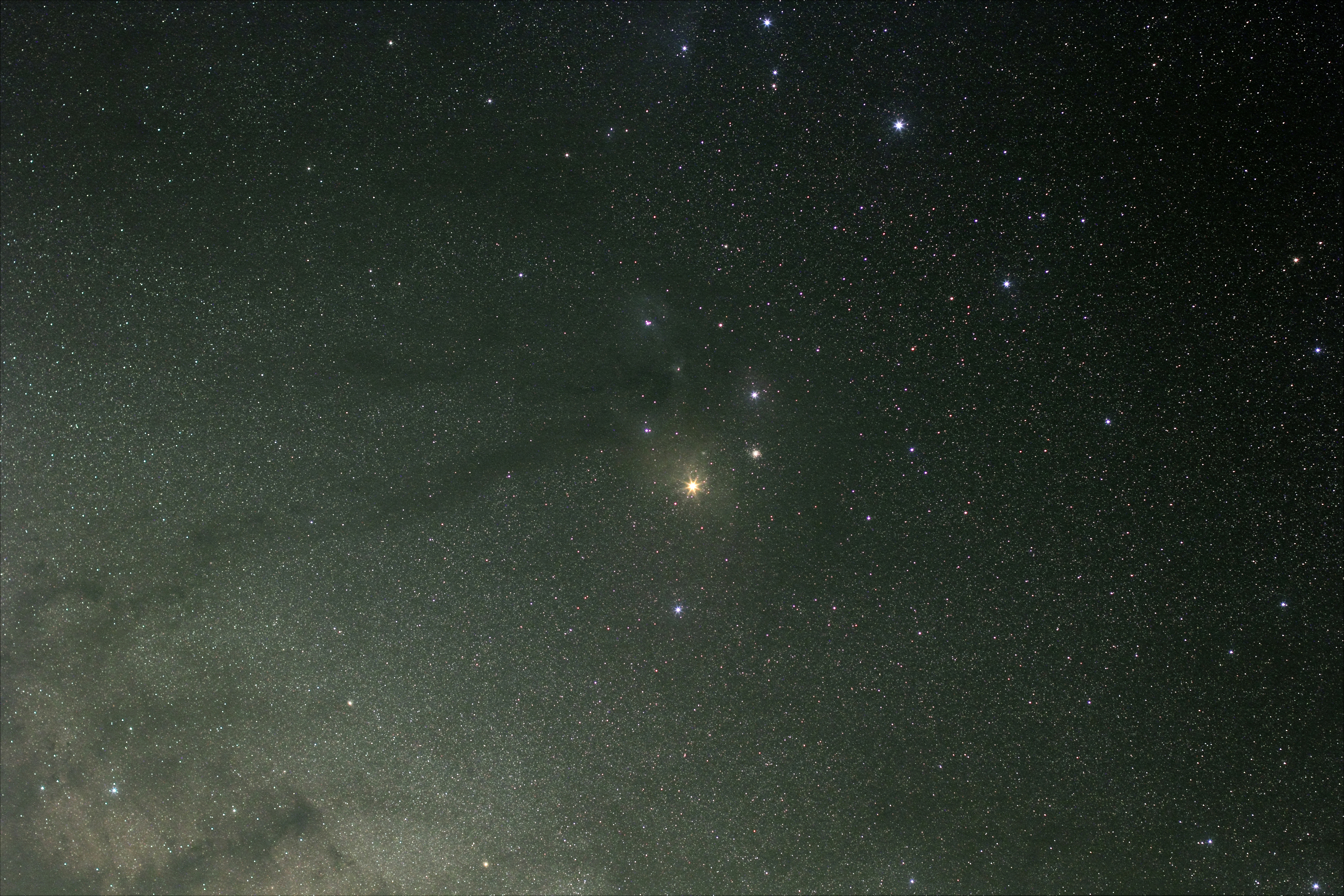 More to come in the next post.
---
---
---