Part 1. Part 2. Part 3. Part 4. Part 5. Part 6.
(SPOILER ALERT: THESE POSTS CONTAIN DETAILS OF PUZZLES FROM THE HUNT INCLUDING HOOKS AND ANSWERS).
The final part of the Mystery Hunt was the run-around, which was a ton of fun. We actually solved the last meta-puzzle around 8 AM on Sunday. The coin was found around 2:30 AM, and in between the first team starting and 8 AM, 5 teams went on the run-around, so Alice Shrugged was quite exhausted and there were very few people left in Hunt HQ at that time. We were told it would probably be around 2 PM when we started. They were actually very accommodating with us and I don't blame them for making us wait.
In between, we worked really hard to complete the hunt, both front solving and backsolving. One of the highlights of this period for me was when we got Dan Katz to tell us an answer. Well, kind of. Someone in our group was apart of a White Heffalump gift exchange over Christmas that Dan was involved in. We had the promise of an answer from the Mystery Hunt, with the caveat that we had to have already solved the puzzle and confirmed the answer, but Dan would read it in a Sean Connery voice. We debated long and hard over what answer we wanted him to say. One answer was "James Bond", which seemed perfect. But we decided on the meta answer for the Humpty round, which was EISOPTROPHOBIC. It was awesome.
Starting at 2 PM, the Cheshire Cat came to our room to take us on the runaround. We went to the first room and there was a crying baby on repeat on someone's computer. We were supposed to figure out a way to shut it up. Following on of the previous rounds, we had gotten a plexiglass square with a chessboard below it. It turns out there were record grooves on it. There was a record player in the room, but we were supposed to get it to work without electricity, or the regular needle, or an amplifier. We did have a table full of items, though, each with a letter on them. We searched YouTube and found that you can take a sewing needle create a cone out of paper and manually spin the record.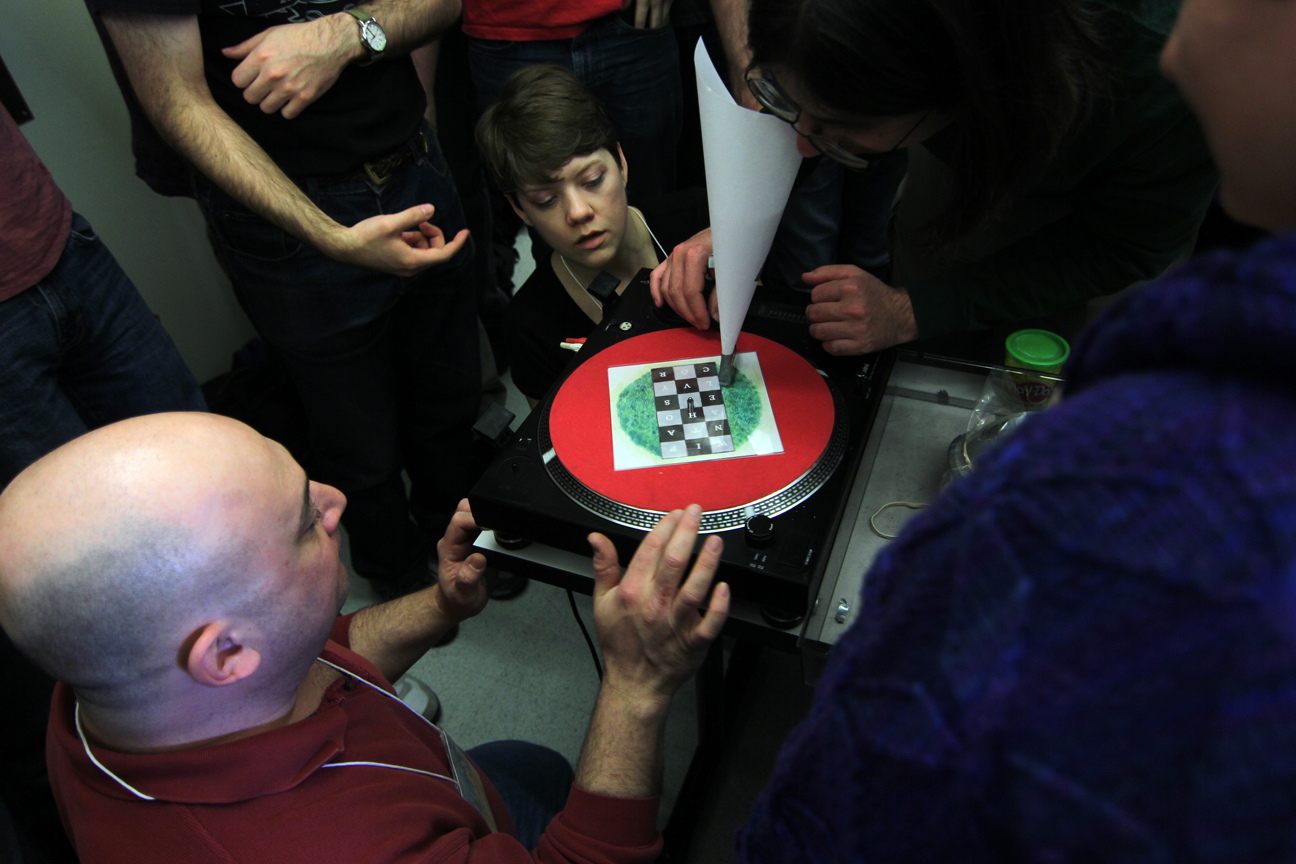 This was extremely challenging. One of my favorite moments was when our team leader held up a jug of some liquid and a few other items and asked if there were any chemistry nerds who could build a battery! In the end, we were able to hear words on the record, but they had superimposed two pieces of words forward and backward. You needed to identify them and take the letters on the corresponding items in the room which spelled out "SING I AM THE WALRUS AS A LULLABY". We were allowed to take a mirror with us.
The next part of the runaround was an amazing puzzlebox in the form of a bed.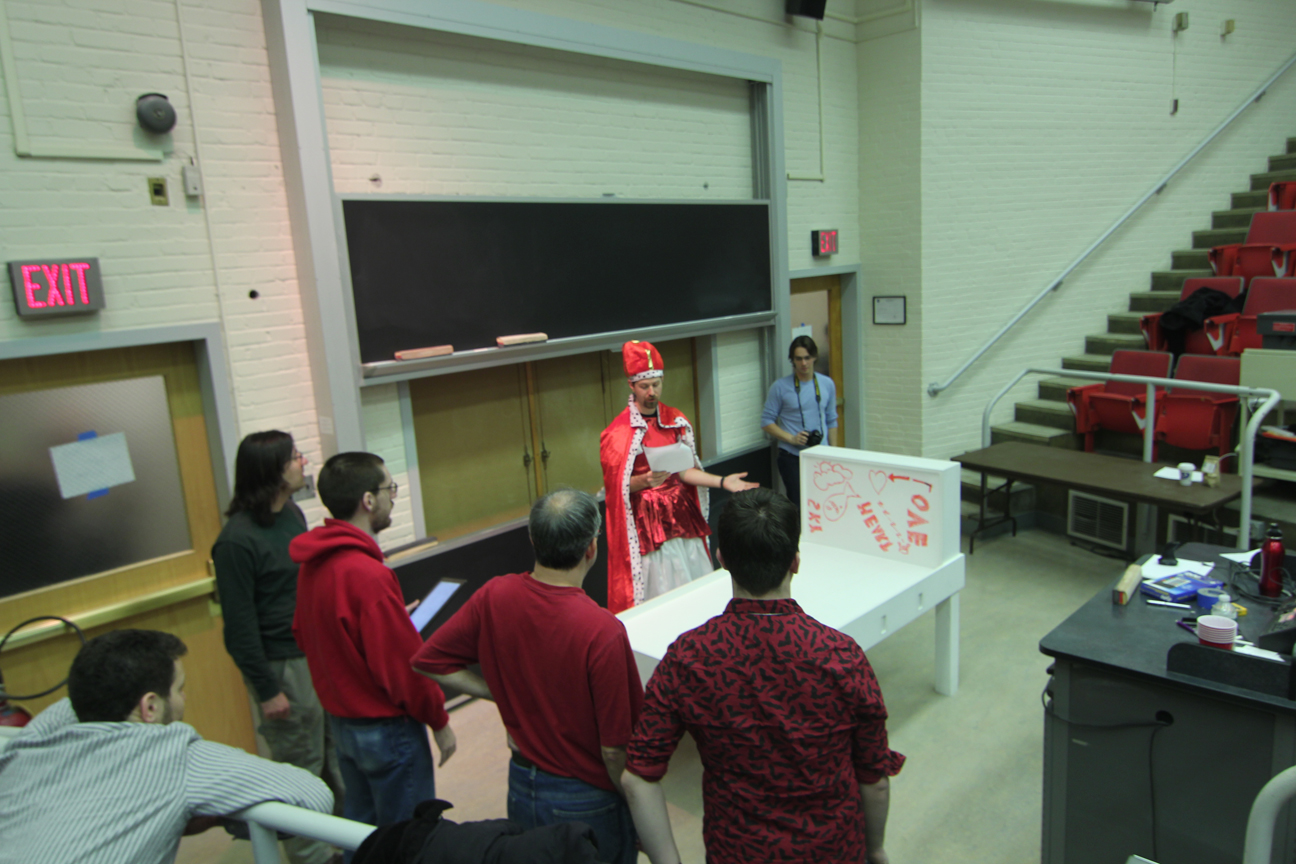 We had received an allen wrench from another metapuzzle. There were blocks with numbers from 1 to 7 on the side of the bed, but we couldn't get it to catch on any of them. It turns out that there's a magnet inside the headboard, and when you stick the magnet on it, you can move it, which removes a catch and allow the bed to be pulled out a little bit. It was then a lock-picking puzzle with the blocks. This took us quite a while and we got lots of blatant hints from Alice Shrugged. There was a "down pillow" inside.
The last stage was pretty straightforward. You solved three Nurikabe puzzles, then there was a fairy chess puzzle at the end.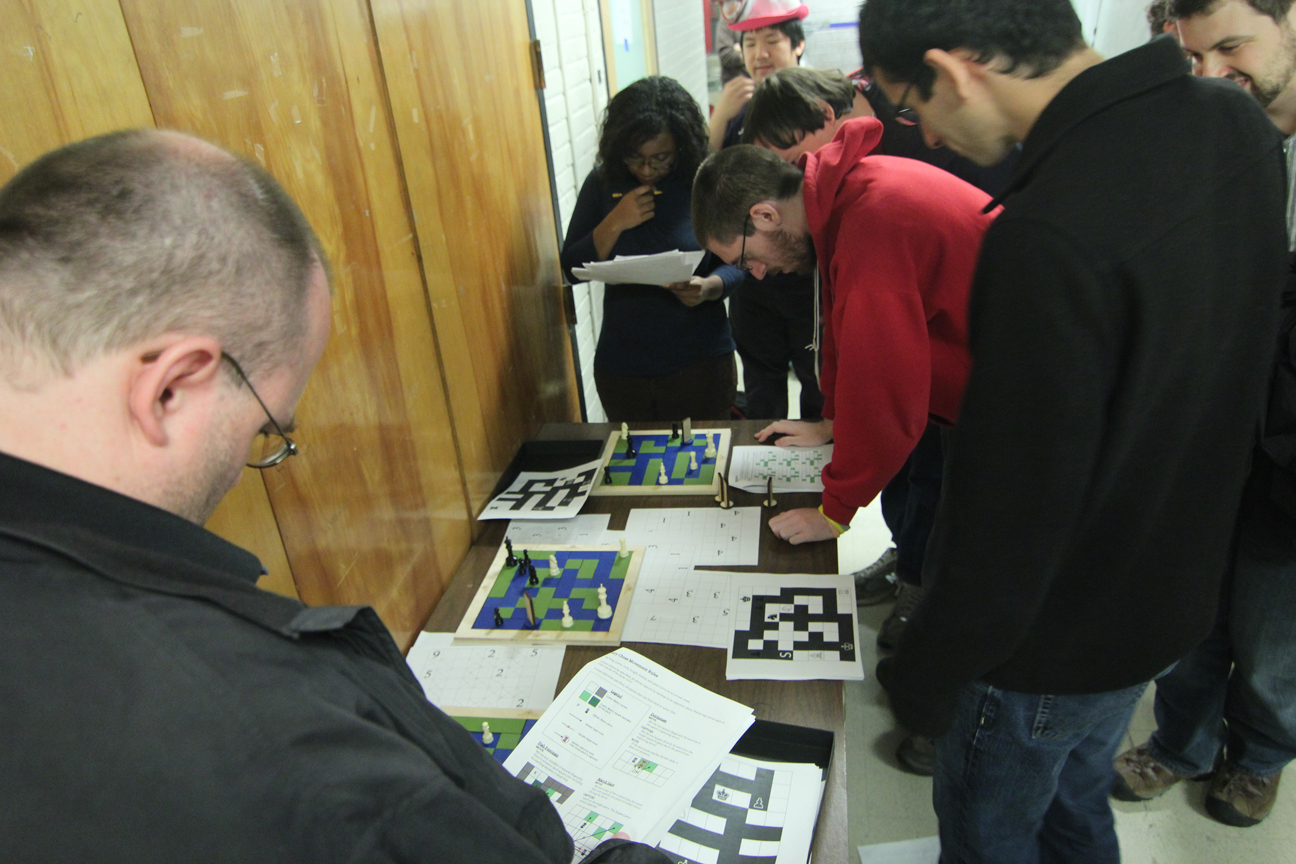 At the end we were allowed to take a giant King chess piece.
The final part of the hunt for us was solving a hedge maze with special rules. Basically the idea is that Wonderland really hates Alice and is trying to get rid of her. She enters the hedge maze with the rabbit, and you have to get her to leave it without it. The mirror, pillow and chess piece had special rules and you had to figure out where to place them. This took us quite a while, but we got it in the end.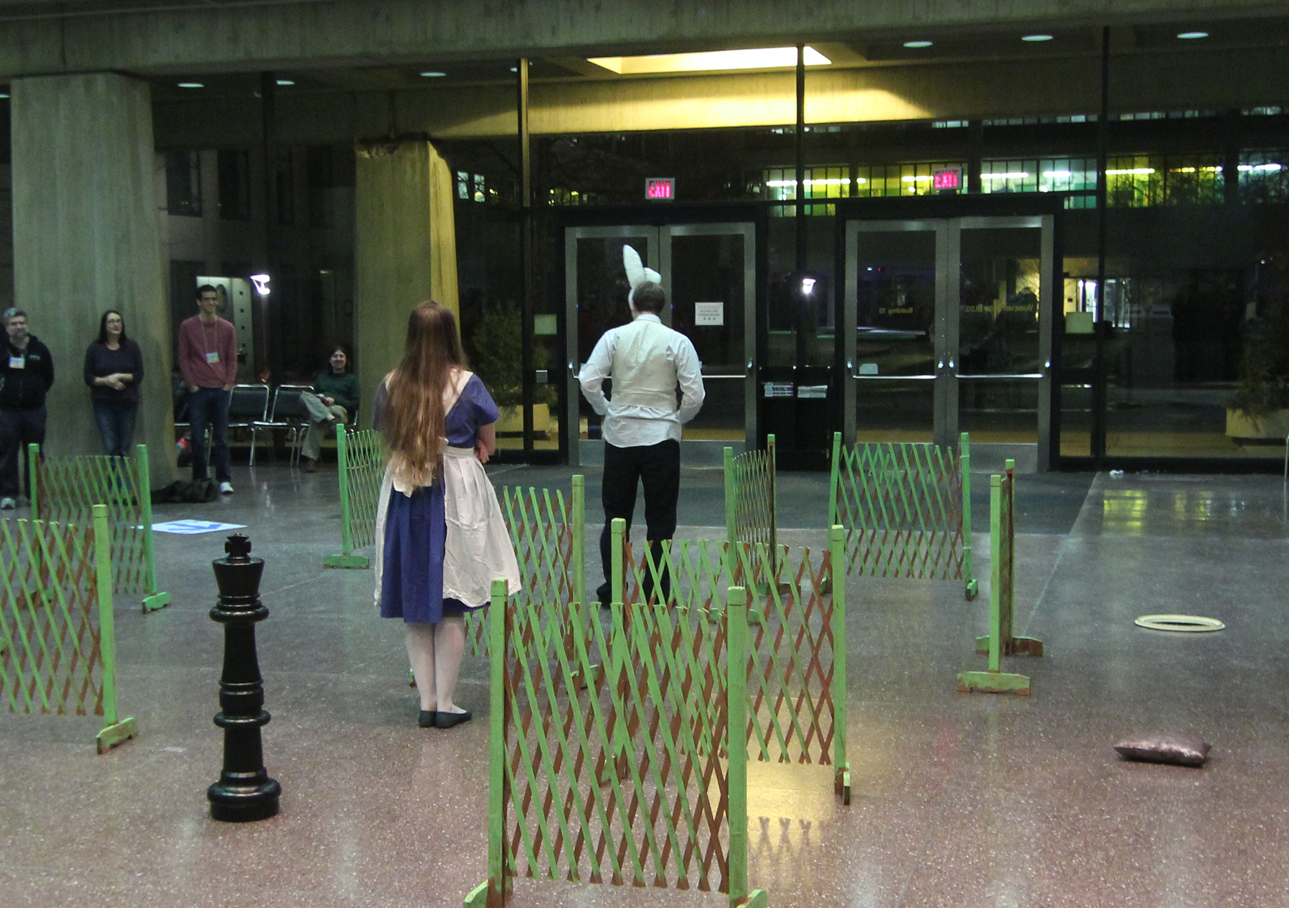 There was one last phase of the runaround that we didn't get to do where you take the answers of all of the puzzles and get a final message from them. That leads you to where the coin is.
All told, this hunt was a fantastic experience. I've been solving with this team for three years now and this was my second year on-campus. There really is no substitute for being there in-person. I've made great friends through this and always leave feeling like I could solve all the hardest problems I encounter in my day job. Thanks to everyone on my team and to the organizers of the hunt for making this so enjoyable.
---
---
---
---
---
---
---
---
---
---